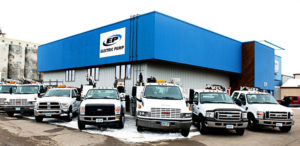 As the largest pump service organization in the upper Midwest, we have the equipment and expertise to provide what your system needs to function reliably and efficiently both now and in the future.
Our staff has the experience to identify your problem and the resources to provide a turn-key solution. From replacements and repairs to retrofits, Electric Pump has you COVERED.
Electric Pump & Tool was purchased by Richard S. Miller in 1980 as a motor shop in downtown Des Moines.  In the years since, the name has changed a little but the business has changed a lot.  Still a family owned and run business, Electric Pump has changed locations twice to accommodate its continued growth.  Located on NE 14th in Des Moines, Electric Pump boasts a highly skilled office staff, a full service repair shop and houses one of the manufacturing arms, Quality Machine & Manufacturing (QM&M).
As the needs of Electric Pump's customers have grown so has the business.  Service locations were added in the Quad Cities area and Omaha.  When the assets of a pump company in Minnesota were purchased, Electric Pump was able to reach customers in Minnesota, Wisconsin, and the Dakotas.  Finally, a service location was opened in Fargo, North Dakota which allowed Electric Pump to respond quickly and efficiently to their northern customers' needs.  While the number of locations has increased, the mission of Electric Pump has remained the same; provide customer focused solutions, exceptional service to our clients and top quality products.
OUR ATTENTION TO DETAIL
Bonding
Professional liability insurance
On-site pre-planning for projects and field service
OSHA trained and certified technicians
Maintenance agreement and surge testing reporting
Vibration analysis and monitoring services
Laser alignment services
Energy audits for predictive maintenance planning
Rental fleet of pumps for bypassing or emergency replacement
Over 320 years of combined service experience
Factory trained technicians
On-site troubleshooting for controls and pumps
Serving municipal and industrial clients since 1980
Custom fabricating, welding and machining technicians in house
THE ABILITY TO RESPOND
Five service locations spanning seven states
20 highly trained and motivated technicians
24/7 emergency service
Service trucks capable of lifting up to 6,000 lbs
Test tanks capable of testing pumps up to 50 hp
Comparative surge testing for motors up to 2,300 hp
Pump repair and machine shop services
Huge inventory of name brand pumps and parts